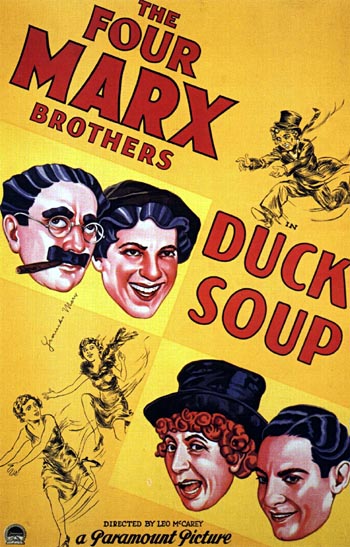 The movie we viewed in this class that I disliked the most would have to be
Duck Soup
. I had never really seen a Marx Brothers film before this class. Although, I feel I was well aware of the persona of Groucho Marx because of his influence on Woody Allen and his role as a pop culture icon. I expected to like
Duck Soup
because it is so respected in the lexicon of American Film comedy and influenced so many comedic artists upon its release.
Surprisingly, I found the film to be one of the most annoying things I had ever seen. Not only did it bore me more than any other film we watched this semester, but it seemed endlessly tedious and irritating. Some of the mayhem made me chuckle, but generally I just thought it was one of the stupidest things I have ever seen.

I enjoy comedians that deliver one liners, but I suppose I am more of a fan of the Rodney Dangerfield's self deprecating style as opposed to the obnoxious behavior of Groucho.

Why in the hell was the movie called
Duck Soup
in the first place, I guess that is the whole point. The movie makes little to no sense so why would the title be of any importance. I am glad that Woody Allen and others influenced by the Marx Brothers have improved upon the slapstick comedy they displayed in
Duck Soup.